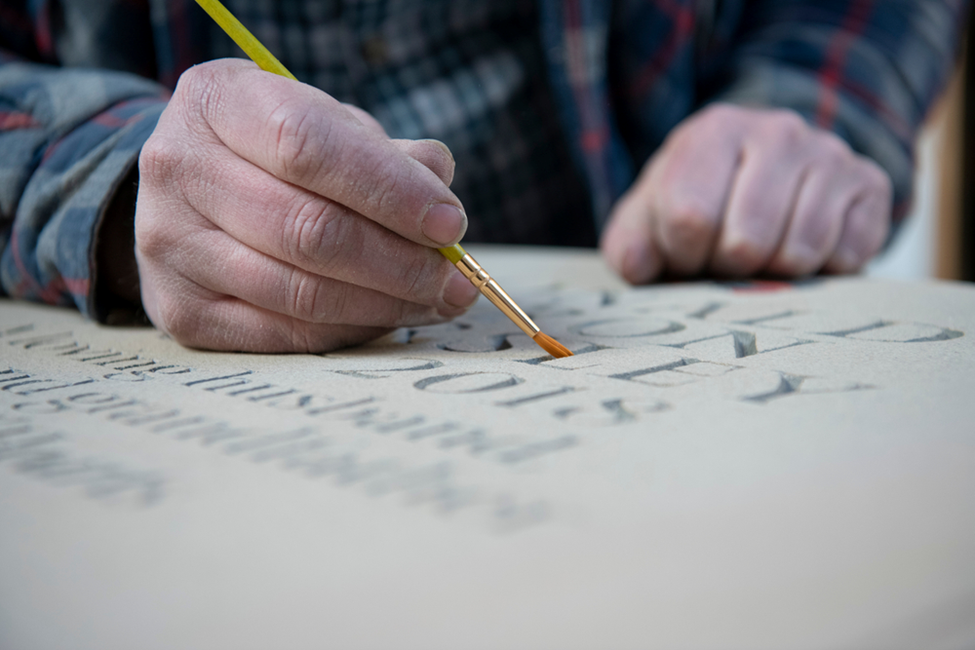 What To Put On A Headstone
When you lose a loved one, you'll likely spend some time thinking to yourself about what to put on a headstone. After all, the deceased likely meant an awful lot to you, and your life, and reflecting them and their personality in a few words can seem like an impossible task.
Typically a headstone will read a person's name, birth date and death date, along with a few words of wisdom, important values of the deceased, or something that simply summarises the life they lived.
However, when planning what to put on a headstone, it is important to understand the restrictions around headstone inscriptions and what is typically seen as appropriate. Even if your family is not religious, a headstone can commemorate your loved one and leave a lasting memory.
Choosing the Wording Before the Headstone Material or Size
The wording on a headstone can be a difficult decision, and sometimes, many choose to put this off until the headstone material, shape and size have been decided.
However, this is rarely a good idea. The words should be your starting point. Therefore the shape and size of the stone can be designed to fit the words and the material chosen will be to suit the length of the scripture.
Starting with Names and Dates
If you are feeling lost when it comes to what to put on a headstone, sometimes the best thing to do is start with names and dates. By no means do you have to start with 'in loving memory of', or anything of the like.
Start with names and dates, and then anything else is optional. Sometimes, even the dates may be optional, however, you should check this with your chosen cemetery before you make any firm decisions.
Some cemeteries will prefer that you inscribe the dates, as not only a marker of the grave but also a record of your loved one's life. Should the inscription be particularly cryptic, it can cause confusion.
Though as decades roll on, and time moves by, often the dates on the headstone become less important and the inscription moves to be the main focal point. This stone will outlive those who commission it and over time, strangers will read it to get a snippet of information about the deceased.
Choosing an Inscription
Whilst you may wish for the headstone to be personal, some choose an inscription that appeals to many, as a churchyard is very much a public space.
A line such as 'beloved mum and grandmother' may mean a lot to you, but choosing something that even a stranger could read and take something positive from could be a great way to let your loved one's memory live on.
A poem or quotation will never turn stale and can help create a positive and uplifting effect from something upsetting.
Don't Feel Rushed
When you're choosing what to put on a headstone, there is no right or wrong, and that is important to remember. Explore your ideas and allow yourself all the time you need to find the best wording.
Sometimes, this can even take years, but the right inscription can create a long-lasting impression that means a lot to you and your family.
This journey can even be a healing one for many.
Less Can Be More
It is the natural impulse to say as much as you can, however, this does put you at risk of leaving something off. Therefore, less is more and simplicity can be key.
You'll find that in such an inscription, one word holds a lot more strength than three.
Don't Be Afraid to Be Creative
The above words are only written to help guide you on what to put on a headstone and are by no means a set of rules. Don't be afraid to think outside the box, and create something that fits your loved one perfectly. The stone will be there for a very long time, and therefore the stone does deserve a degree of thought.
Ask for Advice
Knowing exactly what to put on a headstone can be daunting, and there is nothing wrong with needing a little bit of advice when it comes to knowing what to choose. Don't be afraid to ask for advice.
Here at The Elms Funeral Directors, we are proud to be Weston's longest-serving independent funeral directors. Since 1977, we have built up an unbeatable level of professional knowledge and experience in providing you with the advice and caring nature you need at such a vulnerable and difficult time.
We'll offer all of the support you need and our involvement begins the instant you first contact us and extends even beyond the point where your loved one is laid to rest. To get in touch with us and discuss your loved one's funeral arrangements, please feel free to call us on 01934 616 996, or similarly, send us an email.